When it comes to hiring new employees with SAP SuccessFactors, open requisitions can be posted so candidates can search for them and apply.
This ability to perform job posting is where the power of SAP SuccessFactors Recruiting's marketing capabilities come into play and illustrate SAP SuccessFactors' dedication to candidate engagement. SAP SuccessFactors is committed to delivering data-driven and user-centric best practices that optimize site conversion rates and maximize the user's experience.
Sourcing Talent
The power of Recruiting Marketing is making job postings available to the brightest and best talent possible. A common problem facing talent acquisition professionals is that their jobs are not easy to find. Recruiting Marketing leverages proven marketing techniques such as SEO, social media integration, and customized landing pages, while applying them to talent sourcing in new ways to drive applicant flow.
Talent communities capture passive candidates who may have been previously lost to recruiters. SAP SuccessFactors implemented what was originally known as Recruiting Marketing internally in early 2012, and within 10 months of implementation, visitors to its career site increased from 10,000 to more than 80,000, resulting in more than 150 hires.
Easily accessible sourcing analytics provide new visibility to marketing strategies and their effectiveness at any given time. Dashboards on recruiting marketing sources provide real-time data on where candidates are coming from, enabling customers to evaluate and adjust recruiting marketing strategies and dollars in an agile manner. These advanced analytics support tracking candidates from sourcing to hire to retire.
SAP SuccessFactors treats every job as a campaign to attract candidates to your sites based on their interests and skill sets. Customized landing pages attract candidates based on their particular interests and drive them to the main career site within Recruiting. Talent communities are candidate-centric, automated recruiting pools that grow over time. They connect talent with the company's brand, store contacts in a centralized place, and track visitors to a customer's site who begin the application process but don't complete it. Talent communities open communication channels with candidates who would not otherwise exist.
Types of Job Postings
Jobs are posted through the Job Postings page and, from there, are picked up and distributed to the predetermined channels based on the criteria established during implementation.
As shown in the figure below, approved requisitions are available for posting in various places within Recruiting:
Internal Posting (internal career site)
External Posting (external career sites)
Job board postings via eQuest
Agency Listings (SAP SuccessFactors' agency portal)
Jobs posted to the intranet appear on the Careers tab within the SAP SuccessFactors HCM platform and are available to all employees. Corporate postings are those made to the microsite created for external candidates. Customers have one default microsite but can create additional sites as requirements dictate.
This flexibility enables sites to focus on certain populations or target candidates. However, the decision to create additional microsites should be made in the context of the Recruiting Management strategy employed by each customer. Microsites are most powerful for companies that choose to implement Recruiting Management before Recruiting Marketing or opt not to implement Recruiting Marketing at all.
Jobs can be posted for a specific period of time by providing a Posting Start Date and a Posting End Date. If a job should be posted indefinitely, no Posting End Date is provided, and it stays posted until the posting is removed by the recruiter.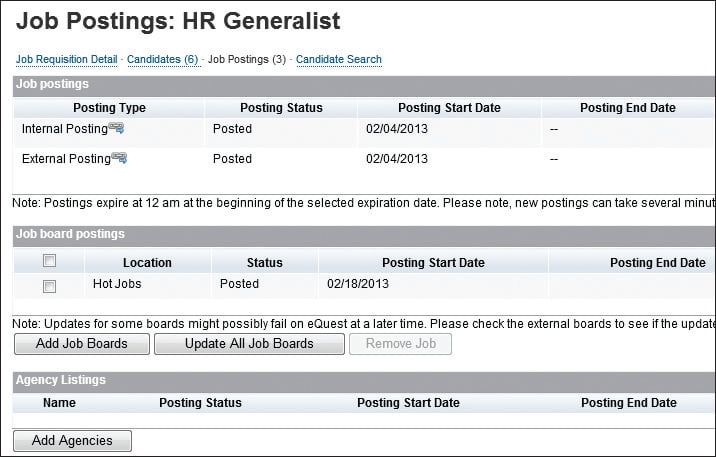 Job board postings are an add-on service provided by SAP SuccessFactors' partner eQuest. The job boards available depend on a customer's separate contract and subscription with eQuest. This aggregator allows recruiters to post jobs to multiple places via one interface. Specific fields must be configured on the requisition template to support the fields eQuest requires to post.
SAP SuccessFactors supports working with agencies using its agency portal. There is one agency portal that is shared by all customers, and each customer sets up individual agency accounts for those agencies they want to post jobs for, as shown in the next figure.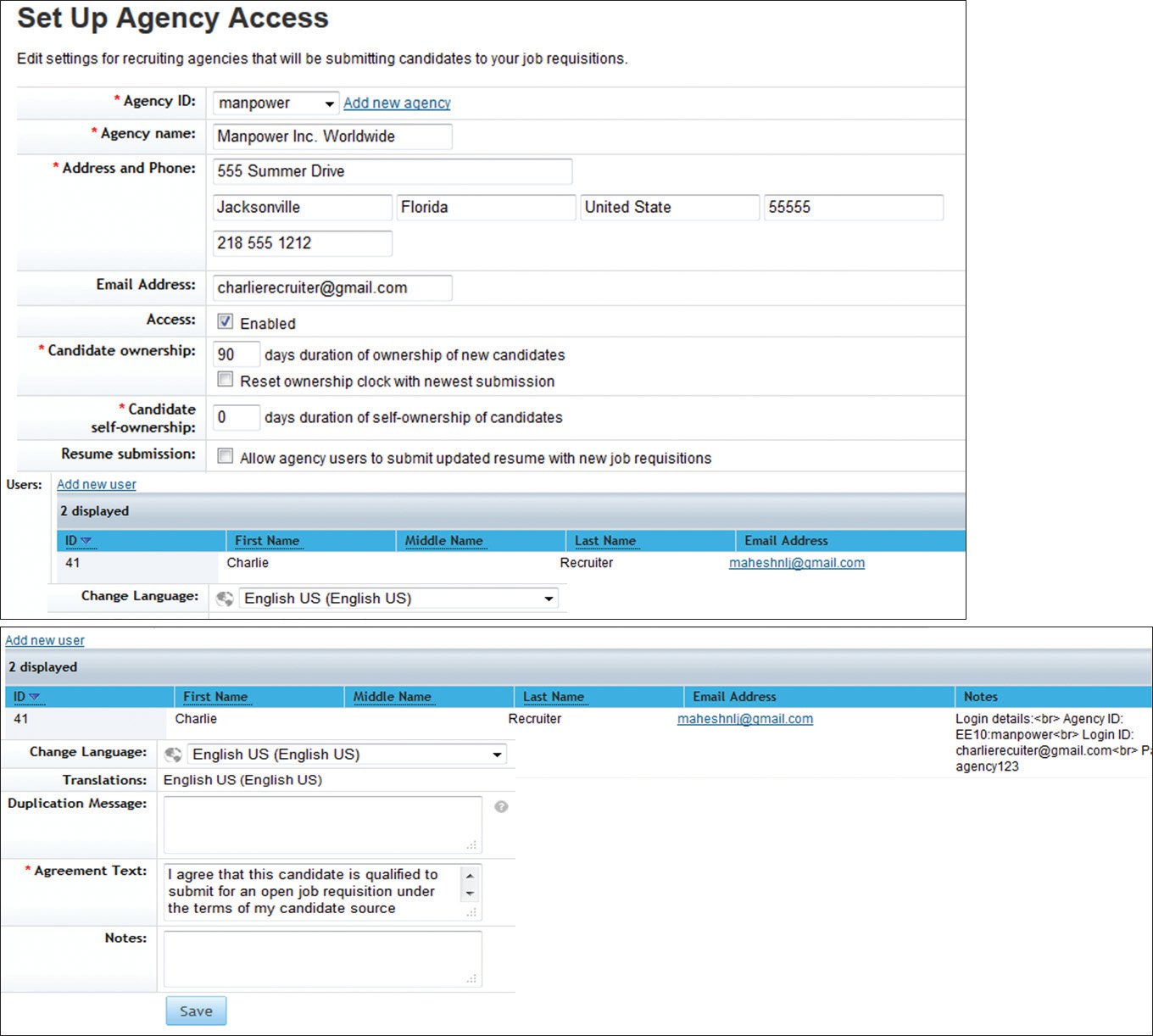 The agency portal functionality has increased and allows agency users to track the progress of the candidates they submit to requisitions. There are also email triggers that can be set up to communicate with agency users.
After agencies have been set up in the Admin Center and granted access to the agency portal (see below), recruiters can post jobs to the portal and agency users can submit candidates for open positions. Agency candidates are easily identifiable from the Candidate Workbench, as well as within the Candidate Snapshot.

Conclusion
Finding good talent can be a hard task, but SAP SuccessFactors provides multiple ways for you to attract and vet potential hires. Whether you're looking to hire internally or casting your net across multiple recruiting websites, with SAP SuccessFactors and partners like eQuest you have all the tools you'll need at your fingertips.
Once you've posted your job and are ready to meet with candidates in person, see how to schedule interviews with SAP SuccessFactors Recruiting here.
Editor's note: This post has been adapted from a section of the book SAP SuccessFactors: An Introduction by Amy Grubb and Luke Marson.